About Versatote
Versatote is the registered brand name for the CSS Groups' plastic totes division and we have been designing and injection moulding plastic tote boxes since 2001.
How we Work and Collaborate
We work closely with partner companies who design and manufacture warehouse picking and delivery systems to ensure our plastic tote boxes are ahead of the game in terms of changing specifications.
Box Features and Options
Our plastic totes are stackable, nestable, heavy duty containers and they are designed with longevity in mind.  As a plastic container box manufacturer we continuously strive to improve and modify the Versatote range to meet our customers' requirements.
Lids for our Versatote plastic boxes can be either fixed hinge or drop-on depending on the type of tote and the application they will be used for. A variety of colours are available subject to minimum volumes and one of our team would be pleased to discuss any particular requirements. We also offer a variety of print options using the latest technology available. Many of our Versatote plastic totes are used in high speed automated systems in several different countries.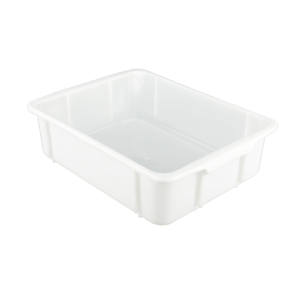 Can't find what you need or have questions?
Talk to our sales team today on
01803 226 961
Great Reasons to Use Versatote and The CSS Group
We pride ourselves on bringing integrity, focus and applied expertise to the tooling and injection moulding solutions we deliver to our customers. This, coupled with our in-depth technical capabilities in product design, specialist toolmaking and thermoplastics production means that our customers can be assured of a first-class service for all their manufacturing needs.
Whatever the volume of the manufacturing run or the turnaround time required, we aim to provide an exceptional service to our customers.
We like nothing more than an engineering challenge to get stuck into, so please talk to us about your requirements, however challenging they seem.
We can often save a company time and money by getting involved at the early stages of product design. We know the questions to ask in order to obtain a good understanding of the customers' needs and will ensure that resources and costs are optimised to provide suitable tooling for the actual requirement.
Our Environmental Responsibility
We take our environmental responsibilities seriously.
Any parts that do not meet our high quality standards during manufacture are granulated back into pellet form to be used in other products that permit the inclusion of recycled material thus eliminating landfill.
Studies have been conducted into the use of plastic versus cardboard in the returnable transit case sector.  It's been shown that plastic is by far the greener material when energy usage to manufacture the product is taken into account along with the number of times each type of container can be used before needing to be recycled. In less than a year the plastic case is normally not only greener but more cost effective.
Depending on the application we often advise clients to consider the use of re-processed polymer for their plastic containers. Not only is it a lower cost option than prime grade material for the customer, it's also re-using a large quantities of consumer grade plastics that might otherwise end up in landfill. We currently convert more than 1,000 metric tons per annum of polypropylene into industrial grade containers and other products and we plan to continue doing so.
West of England Aerospace Forum
WEAF aims to champion the sectors by working in collaboration with partners like EEN, UKTI to provide critical support services such as international collaboration, export and marketing opportunities.  It also works tirelessly to share best practice and showcase the sectors through their Aerospace/defence and Advanced Manufacturing Annual conferences and through its membership listings and Capabilities Database.  WEAF helps promote members online , which offers a unique shop window for their services and products.
Supply Chains for the 21st Century
SC21 is a change programme designed to accelerate the competitiveness of the aerospace & defence industry by raising the performance of its supply chains. International competition, together with the challenges posed by the defence industrial strategy, necessitates rapid improvement in the effectiveness of our supply chains. At the same time, industry must ensure that it delivers competitive solutions for customers whilst maintaining profitable business growth.
Torbay Development Agency
As an award winning provider of business and property services the TDA makes a real difference to the lives of people living and working in the South West delivering innovative and practical programmes in areas including job and business creation.
In 2018 The Group embraced a new challenge with the bold decision to have our QMS system evaluated by two separate accreditations bodies, this was to coincide with the transition of AS9100 from Rev C to Rev D.
ICS and TCS were audited by KIWA under AS9100 Rev D.
Our commercial manufacturing sector CSS (Versatote) was audited by URS for the compliance of ISO 9001 2015. As a group this gave us significant re assurance that our Quality Management System was robust and delivering the required output.
ISO 9001 Standard Certification
AS9100 Standards Certification